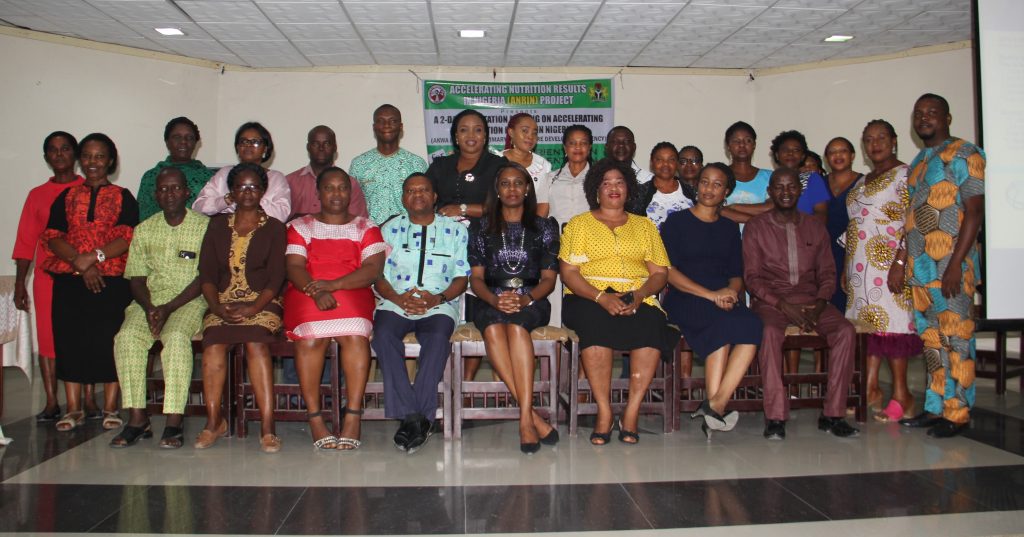 In partnership with World Bank, the Akwa Ibom State Primary Healthcare Development Agency (AKSPHCDA) held a two-day orientation on Accelerating Nutrition Result in Nigeria (ANRiN).
ANRiN is a 21-year program facilitated by the National Primary Health Care Development Agency (NPHCDA) to reduce chronic malnutrition, reduce maternal and child mortality rates and subsequently, increase school completion and performance, and improve labor force productivity.
The orientation which was organized prior to reports of coronavirus in Nigeria was to educate and inform stakeholders at the state and ward level on their roles and responsibilities within their communities, therefore change their perception related to nutrition.
The ES, Dr. (Mrs) Eno Attah, who spoke at the event, highlighted the effect of malnutrition in our society which includes increased mortality rate.
The Executive Secretary, Dr. (Mrs) Eno Attah addressing participants at the ANRiN Orientation Meeting
Dr. Maureen Ugochukwu, appointed by World Bank as Akwa Ibom State Technical Advisor for Nutrition, stated that ANRiN is a performance-based project which needs everyone's immense contribution to achieve a significant result. Dr. Maureen presented a work plan, discussed goals, and intermittent preventive treatment for malnutrition.
Dr. Maureen Ugochukwu, Technical Advisor for Nutrition, Akwa Ibom State
Stakeholders present at the meeting included health workers from nine (9) LGAs namely; Etinan, Uruan, Abak, Eastern Obolo, Eket, Mob, Ikot Ekpene, Ikono, and Itu. Also in attendance was Mrs. Ngozi Emechebe representing the National Primary Healthcare Development Agency, Mr. Victor Bassey, State Coordinator for ANRiN Program, Mr. Lawrence Obo, Director of Planning, Research and Statistics, AKSPHCDA, and other personnel.
Orientation Meeting For Stakeholders on Accelerating Nutrition Result in Nigeria (ANRiN)