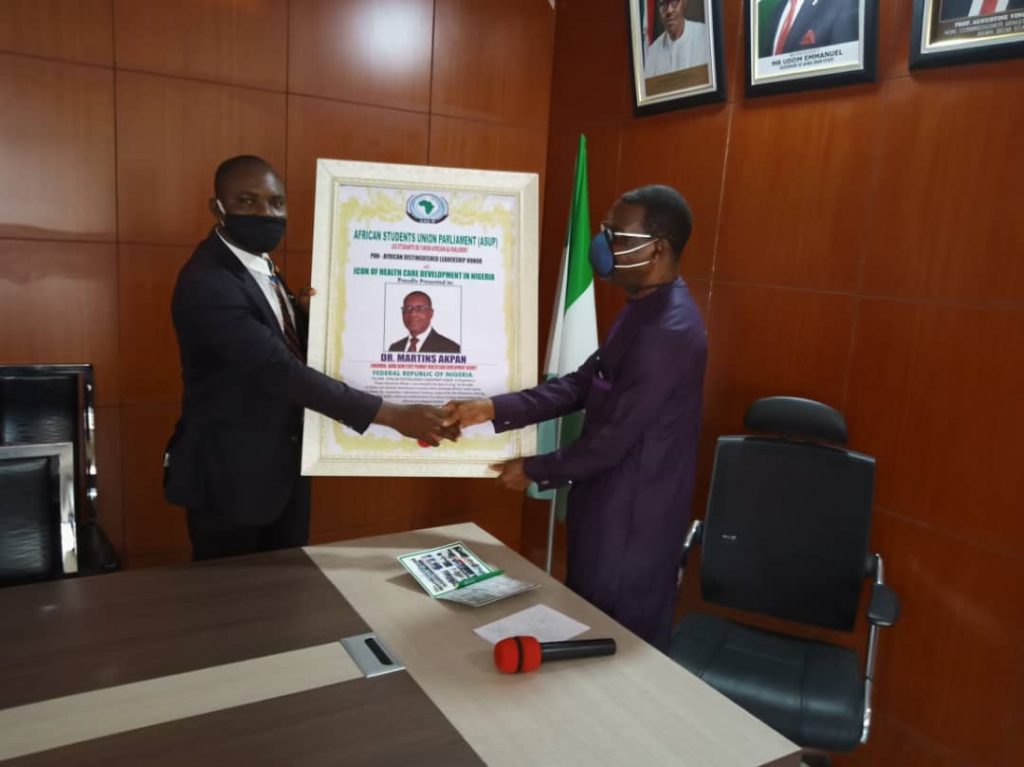 The Chairman of Akwa Ibom State Primary Healthcare Development Agency, Dr. Martin Akpan has described Akwa Ibom State as a state of first-class achievers who have attained global reckoning; citing the examples of Cardinal Dominic Ekandem as the first Catholic Cardinal of Anglophone West Africa, Brigadier General Wellington Bassey as the first Nigerian Soldier (NA1), Sir Egbert Udo Udoma as the first and only Nigerian Chief Justice of Uganda and Samuel Peters as the first Nigerian World Heavyweight Boxing Champion among others.
Dr. Akpan, made the assertion in his office when he was conferred with a Leadership Award as an Icon of Healthcare in Nigeria by the African Students Union Parliament (ASUP) in recognition of his immense contributions to the promotion and provision of good healthcare services to the people. He urged the youth not to deviate from the noble pace-setting path of the past heroes and seriously frowned at the high incidence of drug abuse among the youth and as well commended the effort of ASUP in putting up a spirited fight against the menace.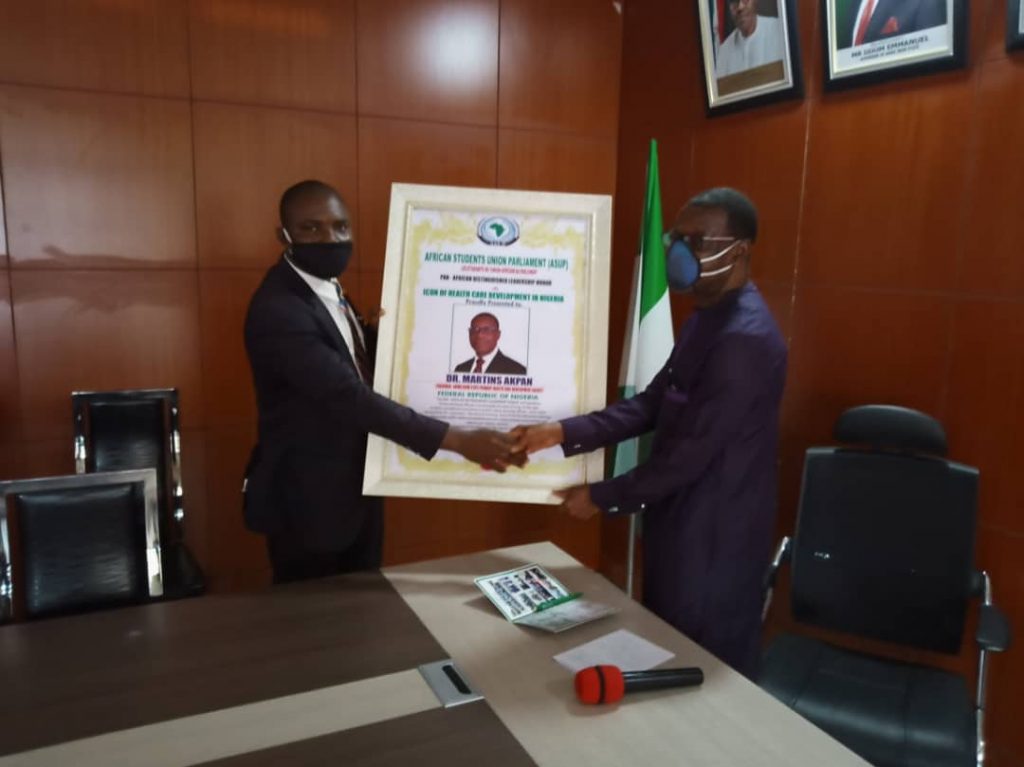 The elated AKSPHCDA helmsman assured the students of his support to make the continent a better place in line with the Pan-African dream just as he stressed the need for education of the African youth as a panacea for the under-development of the continent in line with the dream of the fore-bears.
Before presenting the Award, the Speaker of the Parliament, Kewul Mensah Abel described Dr. Akpan as a man of honour and an intellectual whose impeccable credentials and experience in public service are guarantees of success in his current assignment. Mr. Abel, whose speech was presented by the Parliament's Director of Program, Comrade Ozim Temple, said the Chairman was chosen for the Award for choosing the path of nation-building based on his exploits in the course of his official duties as a prolific writer coupled with high administrative acumen. He stressed the need to conscientize African youth on leadership roles in the continent adding that African nations should collaborate and engage the youth in diverse ways to negate drug abuse which he noted, is a vehicle for criminal activities.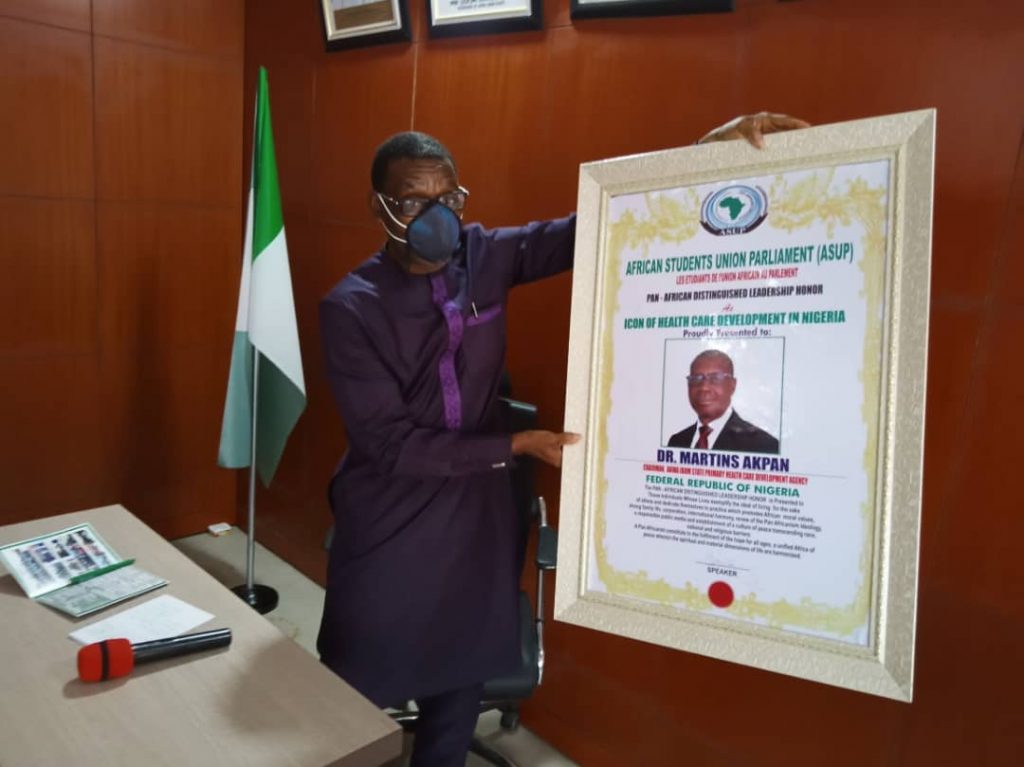 High point of the event was the presentation of the medal of a five star General of the parliament as well as the Award to Dr. Martin Akpan.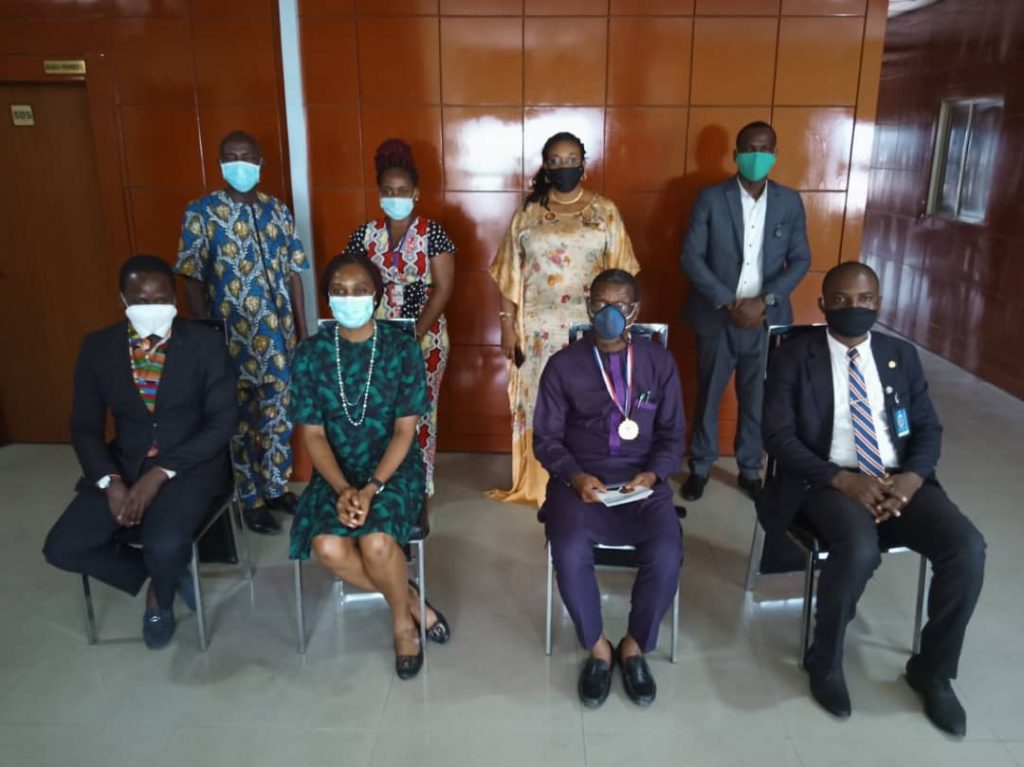 Present at this event were the Executive Secretary of the Agency, Dr (Mrs) Eno Attah, Director of Planning, Research and Statistics, Mr. Lawrence Obo, Director of Accounts, Mrs. Mfon Essien, Director of Administration, Mrs. Regina Udoukpo, and other members of the students parliament amongst others.
Dr. Martin Akpan, Chairman AKSPHCDA Receives African Students Union Parliament Leadership Award