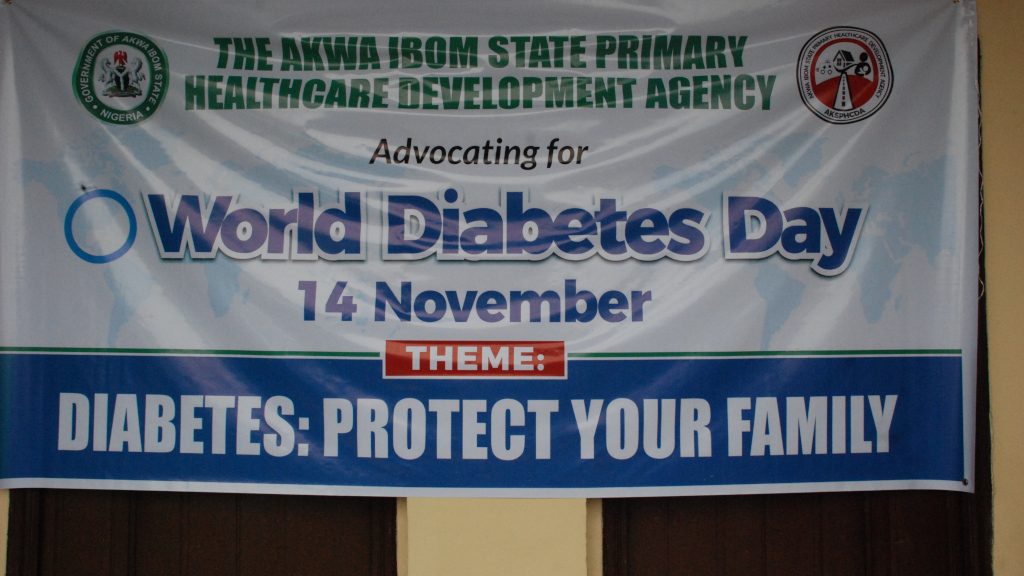 The Chairman of the Akwa Ibom State Primary Healthcare Development Agency, Dr. Martin Akpan, has enjoined staff of the Agency to encourage fellow staff as well as members of their respective families to work towards the early detection of diabetes as well seek professional medical attention.
Dr. Akpan, who spoke at the Agency's Board room during this year's World Diabetes Day observed by the Agency in collaboration with Medical Women's Association of Nigeria (MWAN), Akwa Ibom State Chapter, said the development will lift off depression from such members who suffer from diabetes.
Represented at the event by Board member 1 of the Agency, Elder Sampson Unyeawaji, the AKSPHCDA boss, who applauded Governor Udom Emmanuel, for providing the enabling environment for quality healthcare services in the state, also urged the staff to take advantage of the event just as he commended members of MWAN for the partnership.
Setting the tone of the event, the Executive Secretary of the AKSPHCDA, Dr. (Mrs) Eno Attah, said that the partnership is for diabetes awareness and screening exercise for members of staff of the Agency as a family adding that it is utmost important for the staff to regularly check their blood sugar level for according to her, prevention is better and cheaper than cure.
Dr. Eno Attah, noted that the exercise is necessary because a healthy workforce is a happy and productive workforce even as she noted that, going forward, the event will be bigger in the years to come as larger members of the public will be engaged as beneficiaries.
The theme of this year's World Diabetes Day, is "Diabetes: Protect your family", and featured as high point of the exercise, blood sugar test by the MWAN led by Dr. Stella Adeboye as well as Health Talk by Dr. Blessing Ubani, who represented Dr. Christy Akwaowo on the occasion.
Dr. Blessing Ubani, in her Talk, encouraged the Agency staff to engage themselves in healthy eating and living, regular exercises and mentioned classical symptoms of diabetes to include excessive water in-take, urination and weight loss.
She also stated the Complications of the disease as stroke, blindness, kidney failure, numbness and non-healing wounds even as she used the opportunity to advice family members to offer emotional and financial support to other needy members.
Present at the event which is observed every November 14 by UN and other International Agencies, were Director of PRS, Mr. Lawrence Obo, Director of Accounts, Mrs. Mfon Essien, Director of Administration, Mrs. Regina Udoukpo and members of the MWAN amongst others.
AKSPHCDA Partners MWAN On 2019 World Diabetes Day