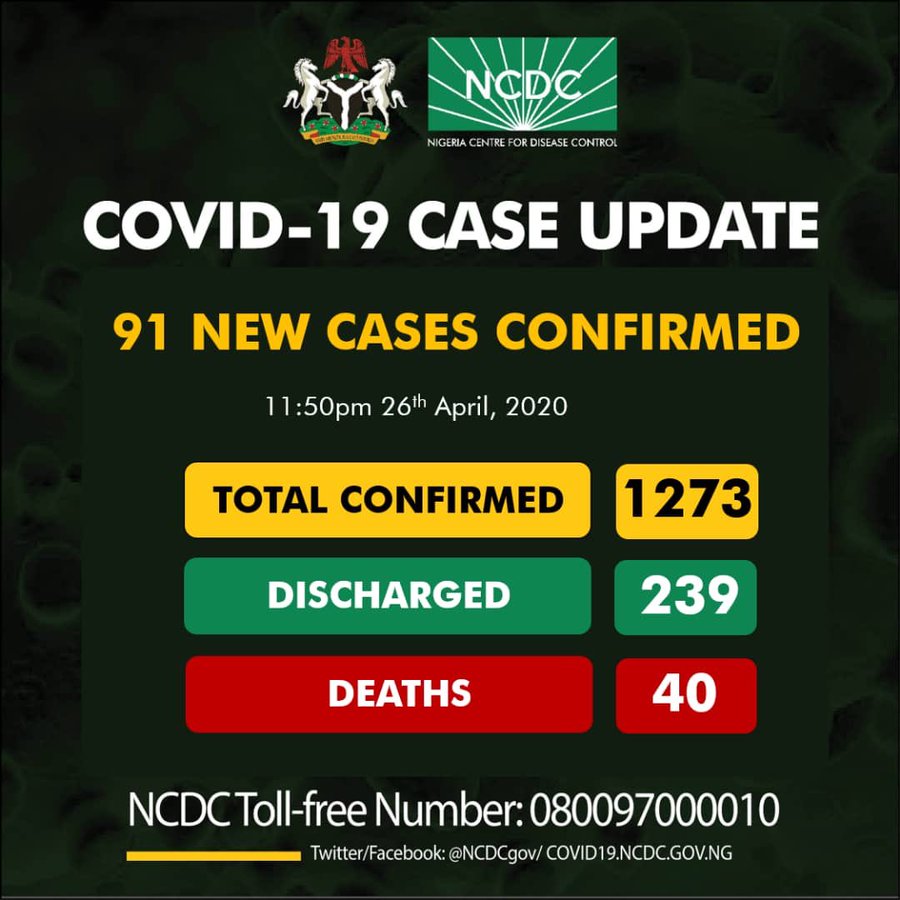 At 11:50 p.m., April 26th, 91 new cases of COVID-19 were reported in the following states: 43-Lagos, 8-Sokoto, 6-Taraba, 5-Kaduna, 5-Gombe, 3-Ondo, 3-FCT, 3-Edo, 3-Oyo, 3-Rivers, 3-Bauchi, 2-Osun, 1-Akwa Ibom, 1-Bayelsa, 1-Ebonyi, 1-Kebbi.
Affected states include: Lagos -731, FCT-141, Kano-77, Ogun-35, Gombe-35, Osun-30, Borno-30, Edo-25, Oyo-21, Kaduna-15, Bauchi 14, Akwa Ibom-12, Kwara-11, Sokoto-10, Ekiti-8, Ondo-8, Delta-6, Rivers-6, Taraba-6, Abia-2, Enugu-2, Niger-2, Jigawa-2, Zamfara-2, Benue-1, Anambra-1, Adamawa-1, Plateau-1, Imo-1, Bayelsa -1, Ebonyi-1, Kebbi-1.
Total number of affected states: 33 states including FCT.
Number of Confirmed cases in Nigeria: 1273. Discharged: 239. Deaths: 40.
Global Report from World Health Organization (WHO): Confirmed Cases: 2,810,325. Deaths: 193,825.
For suspected cases of coronavirus in Akwa Ibom, call the following numbers: 0818 894 1111, 0904 557 5515, 0703 521 1919, 0802 844 2194, 0803 793 4966, 0902 33 0092
COVID-19 Update from NCDC​: 91 New Cases Reported. Akwa Ibom + Other States