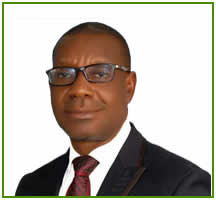 Martin Akpan is a medical graduate of the University of Nigeria. A prolific writer, public speaker, Anti-AIDS campaigner and community organizer, he holds a post graduate degree in Family Medicine from Texila American University, Georgetown, Guyana. Akpan speaks and writes with a crusader's undying candour and passion. His published works include: Brainwaves At Dawn (1992), Mixed Strokes (1998), Good Night Africa (2009), Awakening The Giant (2009), Climate of Health and Well being (2010) and Ripples of Rebirth (2019). His political thriller, The Crumb Eaters, published in 1999, has been adjudged his magnum opus.
Akpan, a widely-traveled man, is a member of many professional and philanthropic organizations including the Royal Institute of Public Health and Hygiene, International Association of Lions Clubs, International AIDS Society, Toastmasters International, African Network for the Prevention and Protection Against Child Abuse and Neglect, ANPPCAN; Society for AIDS in Africa and Association of Nigerian Authors where he has served as a State Chairman and a National Judge.
He has also held many public offices and positions of responsibility including Editor-in-Chief of the State branch of Nigerian Medical Association, Chairman, Akwa Ibom State Action Committee on AIDS (AKSACA) and Director of Medical Services, Ministry of Health, Uyo, Nigeria. He is currently the Chairman, Akwa Ibom State Primary Healthcare Board.
Martin Akpan has been listed in many prestigious biographical publications. These include: New Nigeria WHO'S WHO, Directory of Nigerian Book Development and International Directory of Distinguished Leadership, Raleigh, USA. He and his family live in Uyo, Nigeria where he runs a busy schedule as a practicing medic, public officer, writer and Chancellor of the Nigerian Chancery of the elite doctor-writers' body, The International Society of Doctors in Literature.
Overall, Dr. Akpan has to his credit more than thirty years of dynamic medical practice, healthcare administration, promotion of medical literature and ethics, public affairs, leadership, HIV governance and mainstreaming, youth mentoring and community work, delivered on a template of integrity, humanity, passion and professionalism. He reads, writes and travels in addition to playing tennis and scrabble.